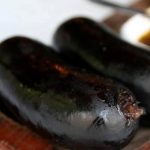 The Montreal Estonian Society  –  Christmas Sausages / Verivorstid  &  Pirukad (new)
Orders for the traditional Estonian Christmas sausages "verivorstid" & "pirukad" will now be accepted until Friday, Nov. 9, 2018 !  
Contact:  Grete Mugu
Telephone:  (514) 294-5109
E-mail:  grete.mugu@gmail.com
Cost:  $10 per pound – maximum 4 lbs per person
Pickup:  Saturday, Nov. 17, 2018 between 2-3 pm at St. John's Estonian Church (side door) in NDG.
Pirukad:     For the first time, the MES is offering for sale, delicious "pirukad" (Estonian savoury pastries) direct from Ülle Veltmann Catering in Toronto.
These will be delivered fresh from Toronto and will only be available for pick up on the same day as the "verivorstid".
Three varieties are on offer:  liha (meat), bacon and porgand (carrot and egg).
The cost is $24 per dozen  large pirukad.  NOTE: Varieties cannot be mixed within a dozen.