Montreali Eesti Seltsi Lasteaed-kool alustab uut põnevat aastat. Meil on rõõm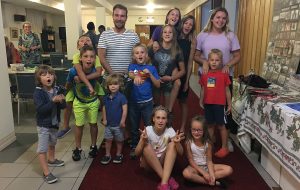 tervitada õpetajateduot, Hendrik Köhler ja Keili Moore, kelle teadmised ja entusiasm ärgitavad huvi eesti asjade vastu. MES' Lasteaed-kool saab kokku iga 2 nädala tagant, Montreali Jaani kirikus.
Soovid meiega ühineda? Või tunned kedagi, kes võiks meie tegevuses kaasa lüüa?
Palun võta ühendust: Mari Tallo-de Baghy  …  maritallo@yahoo.ca   või Monika Dumbrille  …  monikadumbrille@hotmail.com
Õpime koos!
*     *     *     *     *     *
The Montreal Estonian Society Lasteaed/kool is off to a wonderful start!  We're excited to welcome two new teachers on board, Hendrik Köhler and Keili Moore who bring expertise, enthusiasm and energy for all things Estonian!  The MES Lasteaed/kool meets every three weeks on Sundays in the hall of St. John's Estonian Lutheran Church in NDG, Montreal.
Do you know someone who might like to join?
Please feel free to contact Mari Tallo-de Baghy maritallo@yahoo.ca or Monika Dumbrille monikadumbrille@hotmail.com for more information.
Let's learn Estonian together!